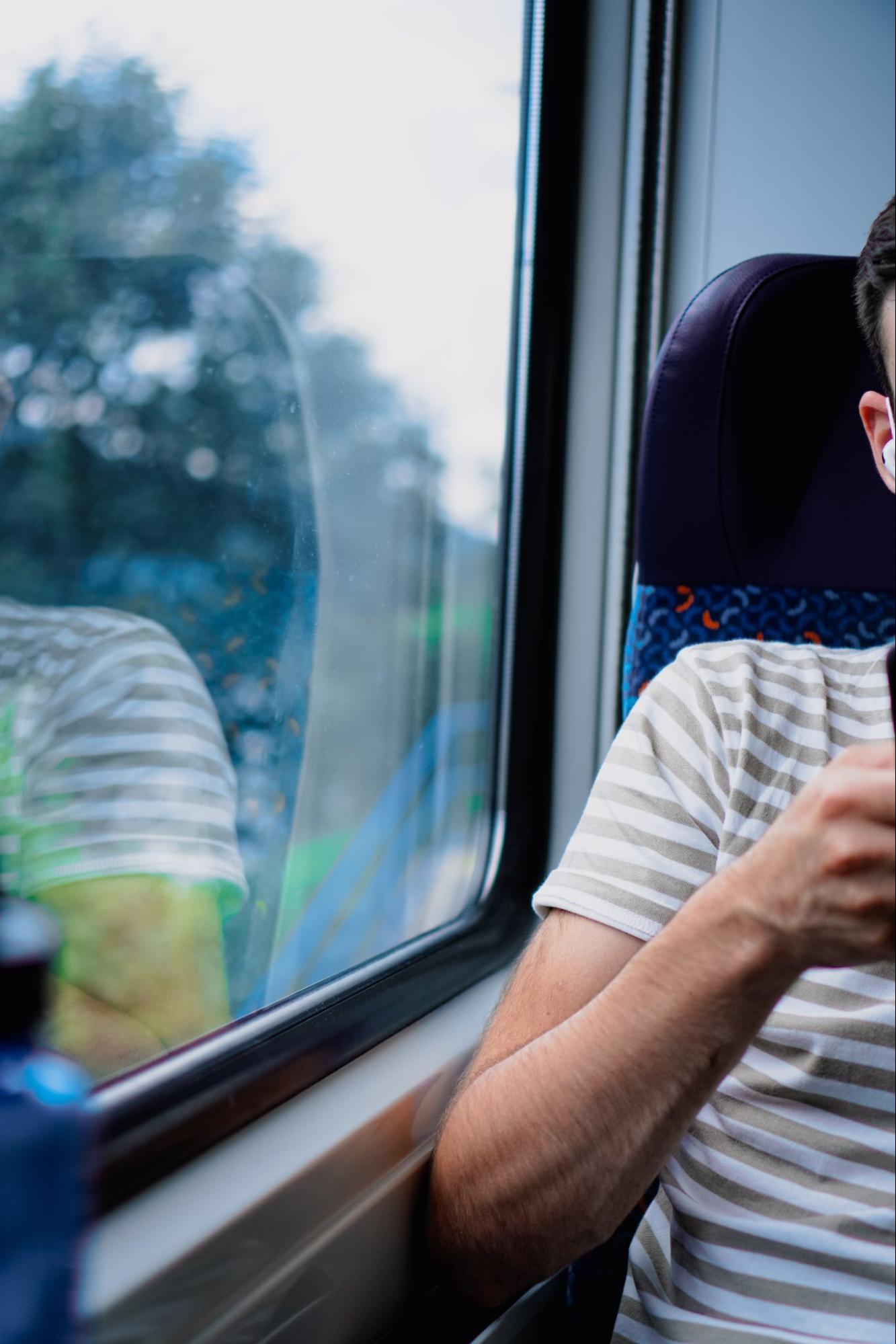 A new greener travel policy at GSG
We are introducing the next part of our journey, which will make all our business travel that bit better for the world.
At GSG, we continuously strive to reduce the environmental impact associated with work-related travel. We recognise how and why it directly affects the environment. According to a Planetly report, transport energy consumption from our vehicle fuels, air, and train transportation represented only 5% of carbon footprint in our general operation in 2020 due to restricted travel implications, but a massive 36% in 2019 of our total CO2 emissions.
Even with the continuing effects of the pandemic still present, most scientific experts are saying that we are now in the end game of the restrictions as we will enter an endemic where the virus is more contagious but less severe, with more and more countries reducing regulations as the virus becomes somethings that we will have to learn how to live with.
We already see the need for increased travel as we accelerate the real-world connections between our global teams. However, we want to remain committed to reducing unnecessary business travel and encouraging the use of more sustainable forms of transport across our operations.
As of 01/04/2022, GSG launched a set of rules for eco-friendlier business-related travel for all employees and subcontractors globally.
These rules encourage employees to be more selective in deciding when travel is needed and unite us all to make better travel choices when travel is necessary across our business day. For many, particularly those in our management, there will be sacrifices that need to be made. However, the future benefits are clear for all at GSG and, most notably, the world around us.
Meet virtually or travel eco-friendly.
In the coming weeks and months, we will provide everyone with advice and guidance on how to decide whether a meeting or event would be better attended in person or virtually.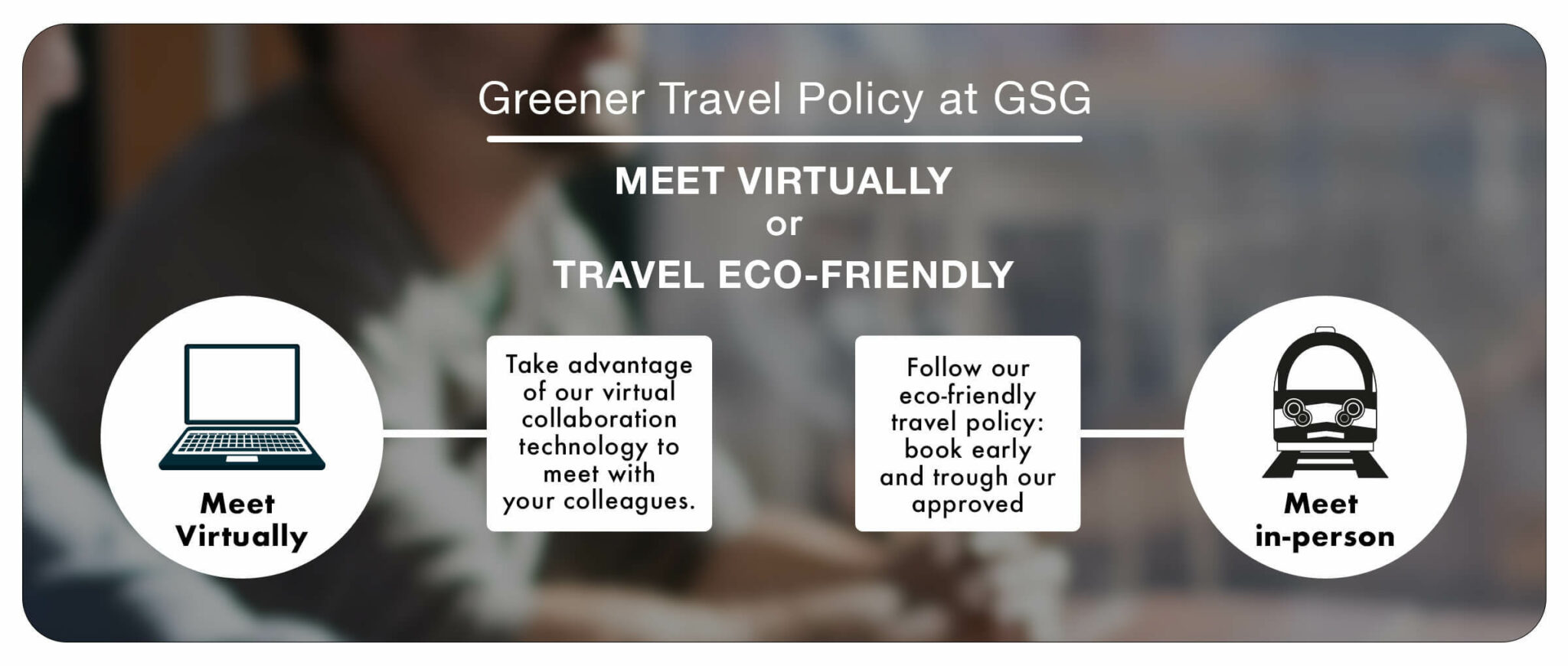 When meetings must be in person, we provide strict rules on which transport should be chosen for all, including management, who will be the most affected. Exceptions will be very few and will only be allowed when no other alternative travel forms exist, like across continents or trains. Travel times are over six hours or too complicated due to the multiple connections needed.
In general, more eco-friendly trains will be encouraged on most business routes.
First, our most important goal is a lower carbon footprint.
As you can see from the diagram below, train journeys, especially on newer trains, emit far lower emissions than most other forms of transport, especially cars and planes. This can, of course, change as vehicles and engines evolve so that changes could be made in the future, but for now, the choice is clear, we will be recommending more train travel and less air or car travel.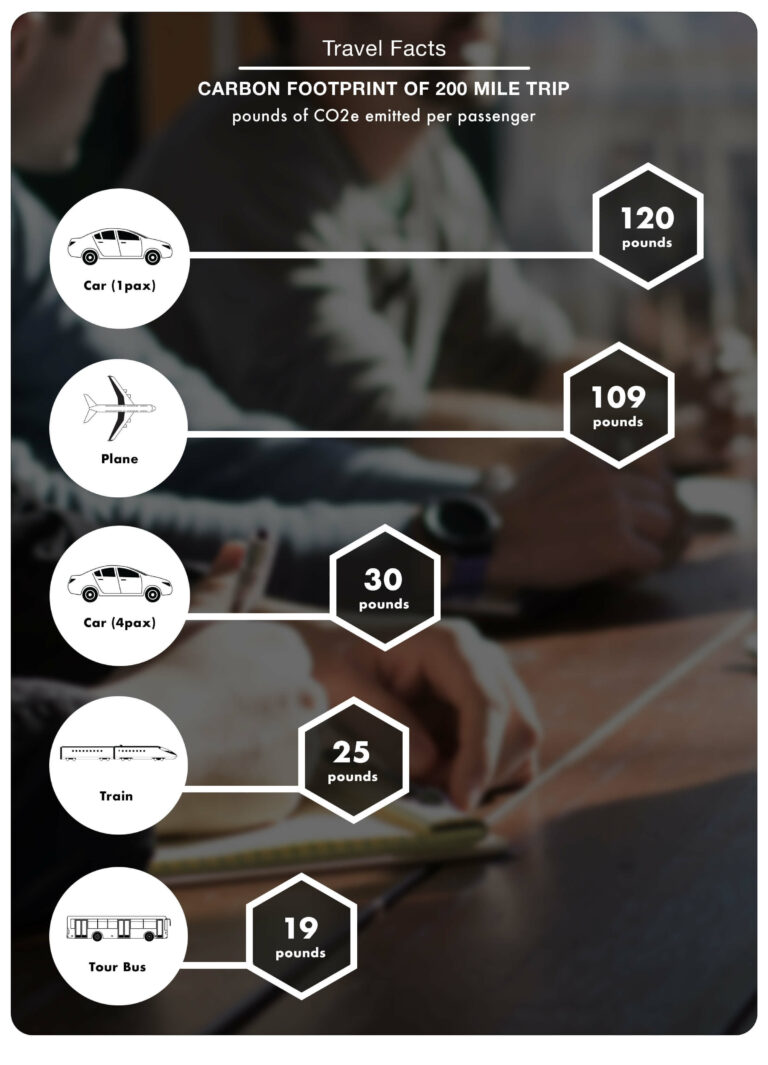 Secondly and quite surprisingly, is the fact that some journeys are either very close to the flight times or even faster.
We often expect flights to be much faster than trains, but as you can see from the diagrams, train journeys can be very close in journey times to flights. A train journey between Amsterdam and Paris is one hour faster than by plane. This is generally due to minor inconveniences like check-ins, passport control, and luggage retrieval.

In addition, the location of train stations is usually at the heart of the city, unlike airports which tend to be situated on the outskirts. Munich, Paris, and new Berlin's airports are all very far from the city centre, with transfers to the city either by train, shuttle bus, or taxi, thus, adding more time to the commute.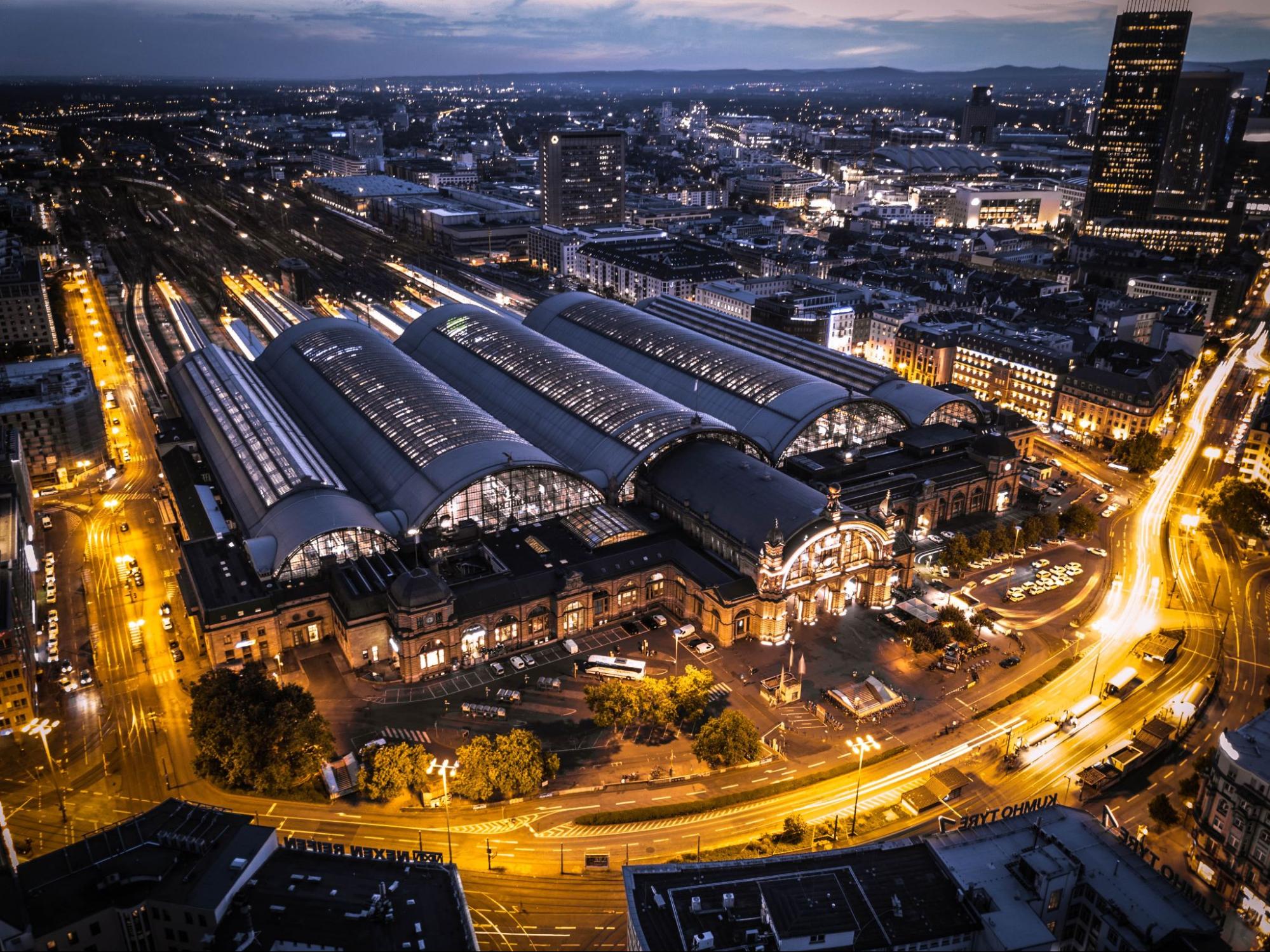 Thirdly, it should not be a surprise that plane travel isn't as comfortable as train travel. 
On planes, the seat space is tight, aisle space narrow, and legroom along with seat selection is limited. Work is also difficult as there are no power sockets and an internet connection is rare or extremely expensive. However, trains are much roomier, especially if you choose the first-class, which does cost more, but rarely in such a proportion as air travel. Plus, with the tables, sockets and internet provided, work can carry on as usual, unless, of course, you fancy a break, in which case you often have the option to either take a quick stroll to the food carriage or wait for a trolley to pop by with snacks.
All these points were considered when we set up our eco-friendlier business-related travel policy.

Carbon emissions, time, comfort, and convenience were significant parts of our thinking process when deciding what forms of transport to select. However, we have made exceptions for journeys where no rail journey is possible, like across oceans, where very long travel times exist like across continents, or where routes become too complicated due to too many changes.
We, as a company, believe in empowering our consumers, our teams, and everyone involved in our journey. Therefore, building a greener future is on top of our priorities. In the past year, we have already set up a carbon emission reporting system with Planetly, striving to reduce them thus our carbon footprint. In addition, back in December, we sponsored 20,000 square metres of Peruvian forest with Wilderness international. This Earth Day we went even further and offered our consumers sustainable shopping experiences across our markets and pages.