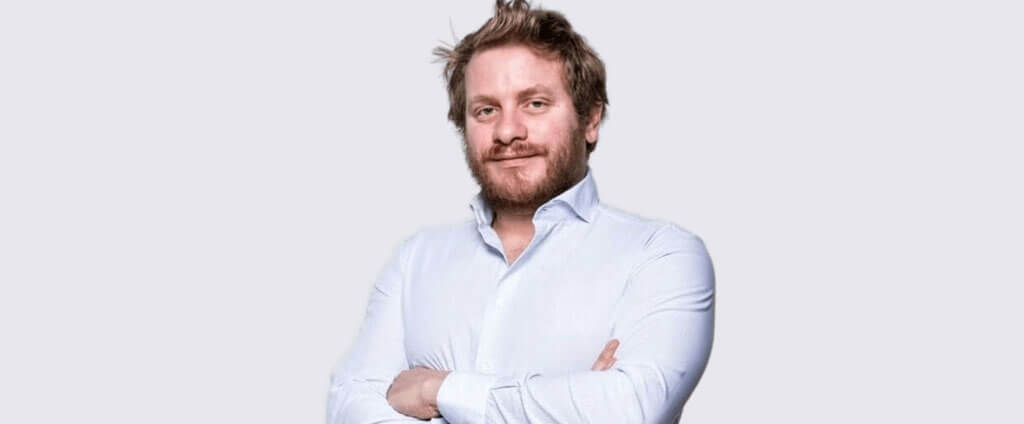 Luca Alice, Associate Director SEO talks about how GSG's flexible work policy has given him and his family the opportunity to explore Europe's possibilities.
First tell us about your career path at GSG, life as a father and how GSG's flexible work policy has empowered both. 
I began my journey as an SEO Manager in Munich in 2017, having come directly from Italy. Initially, my role involved overseeing our SEO Offsite activities. Now, as an Associate Director of the SEO team, I am privileged to manage a talented group of individuals and contribute to GSG by assisting with key projects.
Although GSG had always offered a flexible work environment, before the pandemic employees were required to spend most of their working days in the office, with the option to work from home a few days each month.
In 2017, I was living together with my partner and we had one child, a daughter. We were both fully employed, but my partner remained in working in Milan so that my daughter could finish her school year whilst I moved to Munich. That meant that until mid-2018, my life was split between Munich and Milan. I spent Monday to Friday in the Munich office and weekends in Milan with my wife and daughter.
Travelling back and forth between Milan and Germany via train or night bus allowed me to maximize the time spent with my family in Milan before returning to Germany. It was difficult and challenging, both from personal and professional aspect of my life.
GSG has always recognized the significance of fatherhood and has provided me with several opportunities to spend time with my family by allowing me to work from home, even though it was not a standard practice. I vividly recall my daughter's birthday when I was able to divide my time between working from home and taking time off rather than taking a full week off.
When my family eventually relocated to Munich and my second daughter was born, it was certainly easier for me. However, it was still very challenging for my wife as she had to take major of the responsibility for the children while I was in the office. She was mainly responsible for dropping off the children at school, picking them up, taking them to doctor's appointments, and so on. Of course, even before the pandemic, GSG had always made an effort to be attuned to the needs of parents. However, as a father, it was still challenging for me to balance the demands of being a parent, especially in the first year or two of parenthood and a full-time employee with high presence in the office.
Every cloud has a silver lining, and the pandemic was a major cloud, with major consequences for us all, lives were sadly lost, but the management was quick to react and enforce work from home to amke sure that everyone in GSG was as safe as possible. GSG quickly adopted a much more flexible approach and made significant efforts to enhance employee well-being and adapt to the new normal of work. The company adjusted to the new work standards and put the employee work-life balance central to everything they did moving forward.
"I am extremely grateful to GSG for their flexible work policy and the ability it gave me to be carry on work from a different hub."
After enjoying several years at GSG in Germany, I seized the opportunity to relocate again this time to Spain, where I currently reside. I am extremely grateful to GSG for their flexible work policy and the ability it gave me to be carry on work from a different hub. This flexibility has allowed my family and me to pursue a life path that better suits our needs. My wife is an English teacher, and being in Spain is more advantageous for her career advancement, partly due to her previous studies. Working in a global team means that on a daily basis, I communicate with people who are located all over the world. The amazing team I manage is also located in different parts of Europe. Therefore, the relocation did not impact our daily work or connection, which is primarily based on video calls and online meetings. 
Beyond your own situation tell us how you feel flexibility is an important part of work and life at GSG for all. 
From my talks with others at GSG, especially parents the implementation of a more flexible working style has brought about similar positive changes for them too. It has allowed them to work between the office and from home, from different locations, and has provided them with the freedom to manage their work and personal lives in a way that works best for them. This has in turn created a happier, more engaged workforce, and ultimately, better business outcomes.
There are a few points on the hybrid work model, which combines working from home and working in the office, that I believe have had the greatest impact on the lives of many parents inside GSG, including myself:
More time with family: With the ability to work from home, we have more time to spend with our children. We can now participate in school drop-offs and pick-ups, attend school events, and help them with homework.
Increased flexibility:This flexibility model allows us to work from home the majority of our time and this help a lot when we have to face complex situations, such as a child being sick or the need to attend a school event.
Reduced stress and improve timing: The need to commute to work every day can be stressful for parents, especially those with young children. With the hybrid work model, we can avoid the rush hour traffic and the stress that comes with it. For instance, me and my wife have the flexibility to start our workday earlier in the morning and have more time in the evenings. In my case, since my daughters' school is within walking distance, my wife and I can alternate the responsibility of dropping them off and picking them up, allowing us both to have more time to focus on work during the day.
Where do you see the balance between working online and virtual and offline and in room going?
Remote work and virtual meetings have proven to be effective in many cases, and they offer benefits such as increased flexibility, reduced commuting time, and access to a wider talent pool. However, there is still value in face-to-face interactions, especially for building personal relationships, fostering collaboration, and strengthening team dynamics.
In my case I also regularly travel to our offices located in various European countries to meet my team members and stakeholders in person. Despite the prevalence of remote work, the significance of face-to-face meetings cannot be overstated. They are particularly crucial for fostering social connections and engaging with colleagues whom we interact with on a daily basis. These meetings strengthen both professional and personal relationships, leading to enhanced work accomplishments.
Therefore, it is likely that a balance between online and offline work will continue to evolve, and that organizations will need to find the right mix of both to maximize productivity, employee satisfaction, and overall success.
In terms of team dynamics: teams can be spread across the world but still work together effectively through online communication tools. The digital nature of SEO also makes it easier for teams to collaborate and share data regardless of their location. Despite working remotely, we, the SEO team, make strong effort in form close-knit relationships through regular online meetings and social activities. The importance of maintaining these relationships cannot be overstated, as it helps build trust, camaraderie, and a shared sense of purpose, leading to better collaboration and ultimately, better results.
I feel incredibly fortunate to work with the SEO team. We are a group of individuals who enjoy working together, have fun, and make plenty of jokes. We have formed strong and effective friendships that make our daily routines much more enjoyable. We assist each other frequently, and we don't limit ourselves to our assigned roles or responsibilities. We are always willing to help a team member whenever they need it. Whenever we meet for a couple of days somewhere in Europe, we have a great time together. We go out at night for drinks and to have fun, like a group of friends, without thinking about our jobs. Outside the office, there are no managers or bosses, just people who want to spend time together and enjoy each other's company.
What do you think the office of tomorrow will look like when your children have grown up?
The office of the future is expected to be more flexible and adaptable to the needs of employees. This may include a combination of physical office spaces and remote work options, as well as a greater emphasis on technology and collaboration tools to facilitate virtual communication and teamwork. There may also be a greater focus on wellness and sustainability, with offices designed to promote health, well-being, and environmentally-friendly practices. Overall, the office of tomorrow is likely to prioritize flexibility, collaboration, and innovation.
When I think about my two daughters, I'm filled with a sense of hope and possibility. I see a world without borders, where they can chase their dreams without being limited by geographic locations. As their parent, I feel a deep responsibility to help them become global citizens and provide them with the tools they need to succeed anywhere in the world. One of our stronger reasons of our recent relocation is to give them the opportunity to learn a new language that will serve them well in the future.They are fortunate to be able to speak Italian and German, Catalan and Spanish. It's a privilege that wasn't available in the past, and I feel so grateful to be able to offer it to them. My ultimate goal is to give them the freedom to choose their own path, to follow their passions and ambitions, and to make a difference in the world.