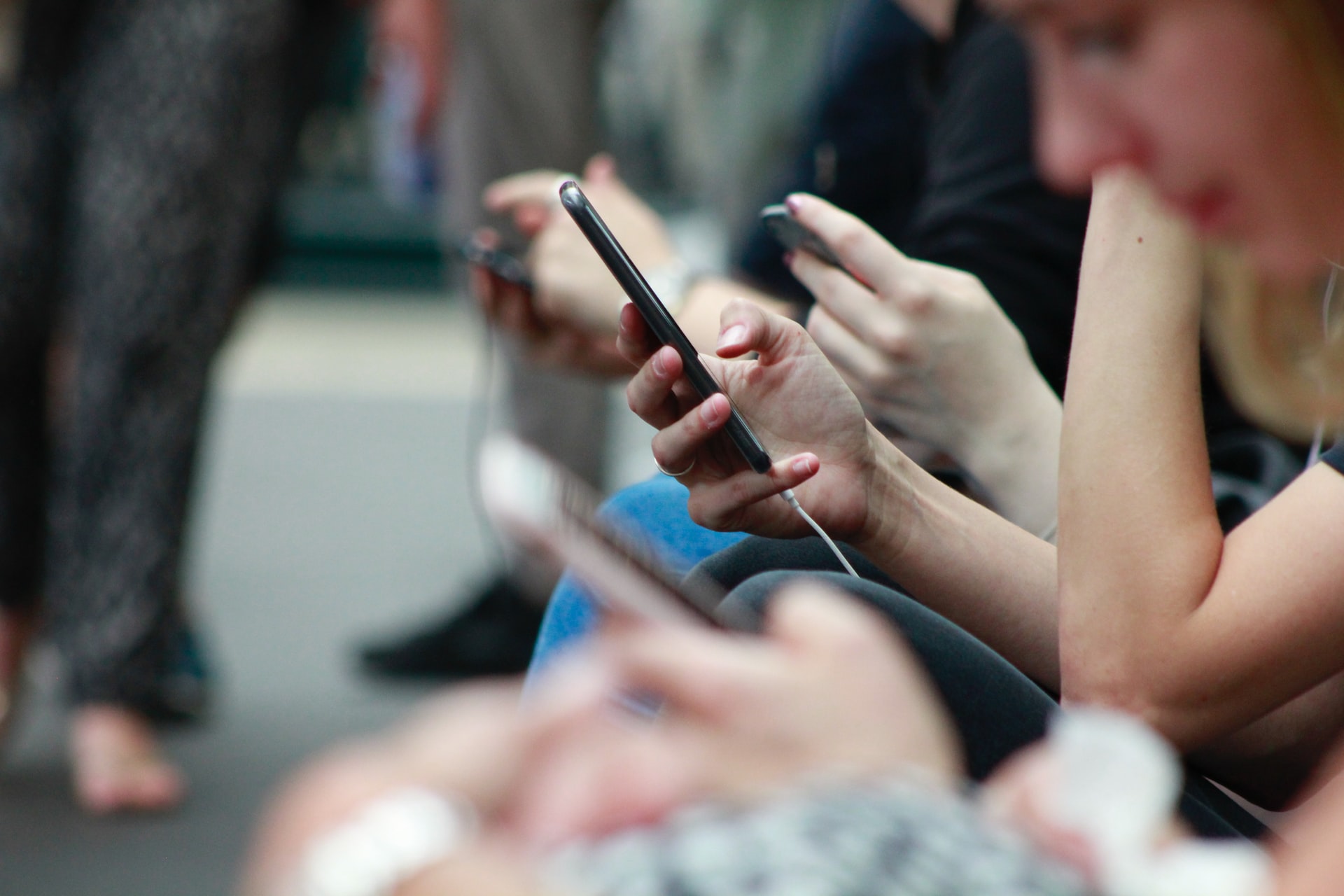 Mobile advancements pave the way for in-app tracking
A new perspective on in-app tracking: We believe that activation of in-app tracking is vital to the success, growth and future of ecommerce as a whole. However this article will not go into the many marketing reasons why this is true, nor will it highlight how in-app tracking can boost a brand's performance. Instead, we want to highlight the underlying social and technological reasons that make in-app tracking a must for every brand both today and in the future.
A story that starts with the brilliance of the mobile device itself.
The first and literally most solid reason for the surge in mobile app tracking adoption comes from the devices themselves. Great advancements have been made in device speed, storage, display, ergonomics, and of course size. The new iPhone 12 is incredibly fast and 5G ready, the Samsung Galaxy Fold has an amazingly expandable screen, and many fashion brands have even enlarged or added pockets to clothing so that consumers can carry these larger devices nearly everywhere with them. Everyone today is talking about their mobile phones, with just a small niche of techies continuing to discuss their laptops or desktops in the same way.
The highstreet experience is now in your hands and in your apps.
The growth of online shopping has already left its mark on the UK highstreet as more retailers close their retail locations, without plans to return. The brick and mortar store has become less of a draw for consumers, as it has become easier and more exciting to shop through your mobile device. Online retailers are therefore designing a whole shopping experience specifically for the mobile consumer through increasingly sophisticated apps.
Each month, new technology and concepts are launched on apps that simplify online shopping and solve the customers problems. Some examples follow.
For Amazon's launch of its Luxury Stores with Oscar de la Renta, the mobile app allowed shoppers to experience a 360-degree-view of items, in order to visualise how these garments will look on various body types and skin tones. The process was simple, and just needed the viewer to first choose a model from a group, with the characteristics and a form closest to their own.
Similarly, Gucci's app 'Try On' uses AR technology to help customers virtually try on a pair of their trainers. All the consumer has to do is point their mobile phone at their feet, and they can immediately see which shoe fits their style.
But it's not just the highstreet experience that's in shoppers hands, rather the entire consumer decision journey is now under their thumb.
The online world has given consumers the chance to make quick decisions when otherwise going about their daily lives. On a typical commute, a person can one second be browsing social media and the next buying a jacket or reading a review about it. Perhaps they are screenshotting a picture of it and sharing it with a friend, or even calling that same friend for shopping advice. Mobile technology has given the shopper the ability to do things that would otherwise take hours and lots of walking in the real world with just a few swipes. Center again to most of these decision journeys is the app.
The rise of in-app tracking goes beyond the mobile device and the world of shopping on it, to the advancement of where you live.
There are some markets leading the way in the integration of mobile life into their infrastructure. Of course very high on this list are China, Singapore, the US, and even closer to home the UK.
In a time where the digital world is thriving, the UK is showing its foresight as one of the most mobile-empowered markets. Much of the UK's infrastructure has been set up to allow people to do nearly everything they need with their mobile device. As such, mobile payments are possible nearly everywhere, and becoming ever more practical thanks to some very neat apps and tools.
In retail industry: Marks & Spencer has enabled the use of its Mobile Pay Go across the country, which allows customers to avoid queues by simply opening the app, scanning an item, and paying with a few taps on their screen.
Another example is Amazon, who recently announced their plans to go one step further towards complete mobile convenience with the opening of over 30 physical stores in the UK. These stores were originally piloted in the US, and customers don't even have to take their devices out of their pocket to complete a transaction. All that is needed is the Amazon Go app. Once that is installed, a customer can enter the store, pick up items, put them in their bag, and as they leave, view the payment and corresponding bill without any additional action on their side.
In the transport sector: From planes to trains to taxis to bicycles, the UK is very advanced in its mobile ticketing services. Combine that with the arrival of Apple's tap-and-go Express payments on most of its public transport, and travel in London just got even faster. This mobile solution cuts out a whole lot of hassle and time when authenticating your payment. A commuter simply clicks on the app, chooses the ticket they want, and finishes by taping their iPhone on the yellow card readers at various travel points when starting and finishing a journey. User friendly technology like this combined with solutions from an ever growing number of tech companies reinventing transport across the UK has led to a real surge in app development covering everything from bike, car and scooter sharing to taxi services and beyond.
The UK is not only leading the way in mobile app integration into its society, but it is also ahead of other markets in the activation of in-app tracking for affiliate marketing.
The UK's lead in mobile app integration into society is also reflected in affiliate marketing where the UK is clearly leading the adoption of in-app tracking. In-app tracking allows for brands and retailers to leverage the affiliate marketing channel to grow app downloads and drive app sales. In the first 9 months of 2020, UK in-app tracking adoption increased by 266%. In comparison, German in-app tracking adoption increased by 90% and US adoption increased only by 28% (which is partly due to an existing higher-than-average adoption of in-app tracking in the US market.)
What more and more brands and in particular UK retailers have recognised is that affiliate marketing is a powerful channel to drive app adoption and generate app sales. For most retailers the app channel is a lucrative way to interact with customers, as it comes with a range of benefits. When a customer has a retailers app they will revisit the retailer more frequently, they will look at more products and they will typically spend more and convert more often. The app allow for the merchant to build a strong relationship with the customer collecting valuable information and providing targeted offers and sales.
Natasha Benee, Key Account Manager and in-app tracking Champion at Global Savings Group in the UK, believes that UK merchants are leading the adoption of in-app tracking because:
Consumer habits are changing and users now spend 16 x as much time on top mobile apps than on top mobile websites. UK brands have noticed that as this trend only increases with time, it's important to integrate APP Tracking now in order to have a full picture of performance and maintain dominance within the market.
UK Brands saw tremendous YoY growth in traffic and only steady growth in sales, this was because App sales were not being accounted for due to the limitations of tracking. Once integrated, brands saw the positive impact it had on performance and also understood that publishers should be awarded for the sales they helped to generate in the first place.
App Tracking has been an educational piece for a lot of the affiliate industry. The UK integrated this solution with a small pool of high-end brands at the start of the year. Through a variety of case studies highlighting the incremental growth, a 30%-50% increase in overall sales attributed to APP each month and an increase in other KPI's such as AOV and CR, has created a domino effect and helped to onboard new partners in the UK since.
On the question, Why do you think that UK retailers are leading the adoption of affiliate in-app tracking, Clementyne Lavender, Strategic Partnerships Manager and In-app Tracking Specialist at AWIN answers:
"A higher number of UK advertisers have recognised the importance of having a robust mobile strategy which has, unsurprisingly, led to a recognition of the value of app tracking and therefore a 178% uplift in number of integrated programmes YoY, despite being amongst the top regions for app tracking in 2019.
Whilst it's true that UK advertisers are leading the adoption of affiliate in-app tracking, let's not take away from the achievements of other regions. Germany's not far behind when looking at both revenue and commission from in-app performance, and when assessing the number of advertiser programmes with app tracking implemented, both Scandinavia and Eastern Europe have seen increases of over 500% YoY.
The UK alone still accounts for over 50% of all app revenue on the Awin network but I expect to see other regions playing catch-up next year."
Mobile phones and apps have become synonymous with a convenient life in the yoUK. This has led to a growing demand by retailers and brands to activate in-app tracking accounts so that they can benefit in real time from mobile data as more and more customers shop from their phones.
(ALEX TO ADD A COUPLE LINES AND CHOSEN CHARTS ON THE GSG DATA AND POPULAR IN APP CATEGORIES IN THE UK.)
Other markets should prepare to harness the advantages of inn-app tracking.
All the different factors from the ingenuity of mobile devices, the evolution of shopping, the in-app shopping experience, and the mobilisation of the customer journey, combined with a market's, mobile integration of the real and the digital world provide real evidence that the future of shopping is mobile.
As such, brands and retailers around the world need to activate in-app tracking now, in order to start learning from the next generation of shoppers – the mobile app shoppers – as they are changing commerce as we know it.