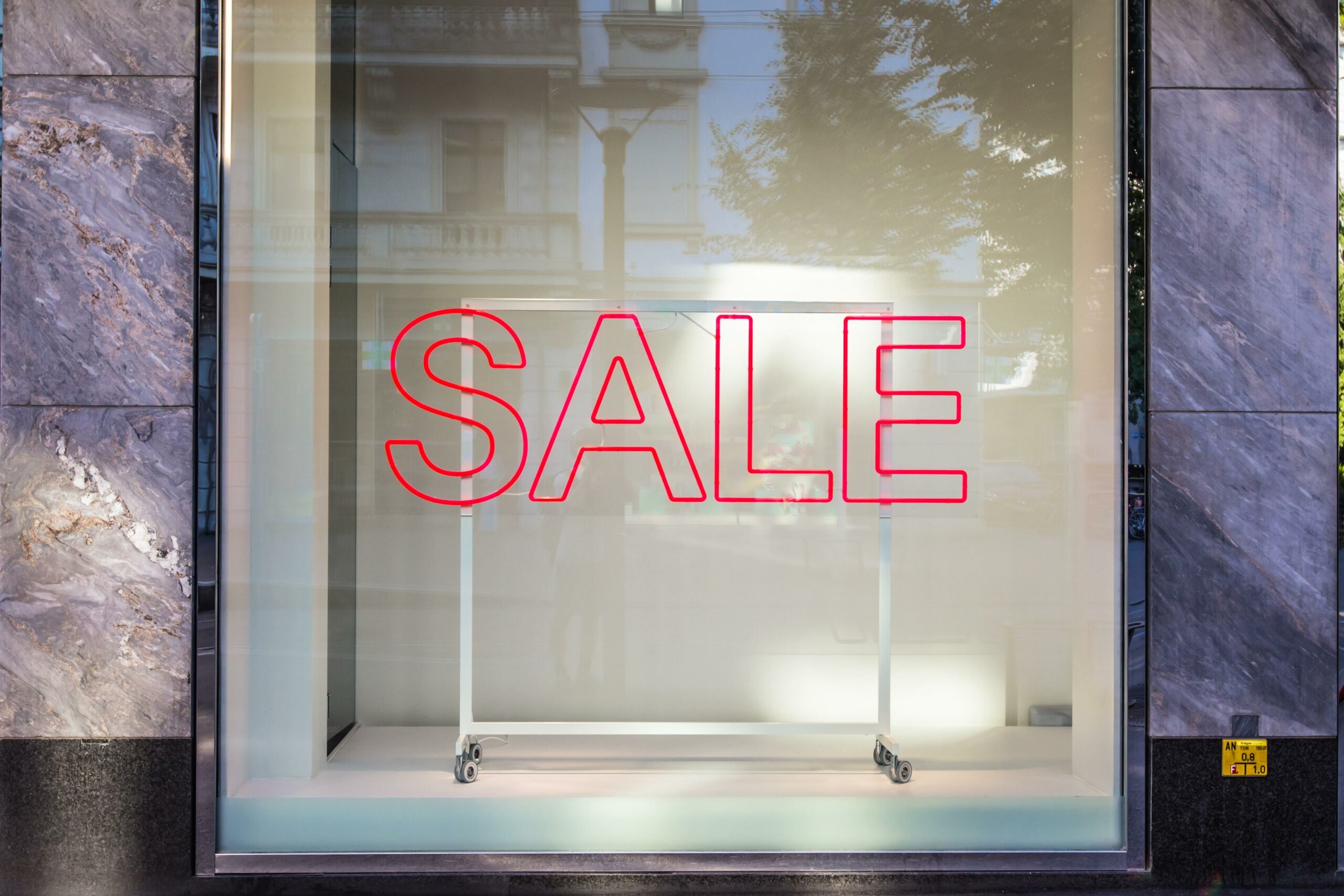 Black Friday, Black weeks, or Black November?
The world of tech has had a few hits in the last weeks as Amazon, Twitter, Facebook have all reduced employees after years of expansion as the world of e-commerce grew and grew. Is the online market slowing, or are consumers just waiting for the right moment and incentive to buy in a year where more and more people are struggling to afford the basics as inflation remains high?
Well, maybe Black Friday can tell us a bit more, but before we get to the actual Black Friday on the 25th of November, we first need to see when its sales are starting, what's on sale, where they are taking place and how they are being held. But maybe the most important is who's buying and what they want and expect. So let's start with the first question: 
When are the Black Friday sales beginning?
Black Friday has been longer than it used to be pre-pandemic, but not as long as it was during the last two years, and there are quite a few reasons for this. During this period, the move to e-commerce was so great that logistics were stretched to the max. Nearly every seller was worried that a short Black Friday could just lead to many frustrated customers waiting weeks for their purchases to arrive as the stock was either stuck in the post or, worse still, stuck on a container ship in the ocean as it queued to dock. Hence, in both 2020 and 2021, the term Black November became very popular.
But now, in our post-pandemic period, as the danger of Covid has been reduced, consumers are heading back to the high street and its shops. Plus, most retailers have already brought in merchandise earlier this year, and some of these warehouses are even overstocked. Suddenly, we see a move back from Black November to Black Weeks, with sales starting earlier than the 25th but later than last year.
Here is when some of the Black Friday sales are starting:
Amazon – Black Friday Week 18th November

Adidas – Early birds sale for members started 14th November, Cyber week from 21st November

Nike – Black week starts 21st November

Zara – Black Friday sales start 21st November

Zalando – Black Week starts 21st November

Aldi – Online only sale starts 23rd November
In summary, most retailers have started their sales on the week of Black Friday.
What's on sale?
Before any real sales had begun, it was widely reported that the deepest inventory was in clothing, so it's no surprise that our Women's Fashion vertical has been performing so well.
Based on the first results from our own GSG sales from the 1st of October to the 18th of November, Women's Fashion is by far our top performing vertical, followed by Home & Gardening and then Travel. However, there has so far been a drop in revenue generated by the Technology vertical, which goes against many predicted trends that highlighted warehouses full of tech, but, maybe, this is also due to scarcity in certain product types as there is still a lack of microchips. Or it could be that people are hanging on and waiting for bigger discounts on, e.g. Cyber Monday before buying big-ticket items like a new TV or mobile phone. 
GSG's Top Performing Verticals (From 1st Oct until 18th Nov)
Women's Fashion

Home & Gardening

Travel

Sports & Outdoors

Technology
On the 18th of November, Nintendo launched a huge Black Friday eShop Sale, with 75% Off Switch Games in the UK, and Playstation also has lots on offer now, so perhaps just about the timing of offers in this vertical and we will still see some category shifts especially as people prepare to buy early Christmas presents.
How big will the discounts be?
All things point to much higher discounts this year than in previous years. Inventories are high and consumers are not just wanting but need greater discounts in these inflation high times to be able to afford many purchases. This chart from Adobe Analytics / CNBC highlights the great discounts expected for the online market in the US in particular.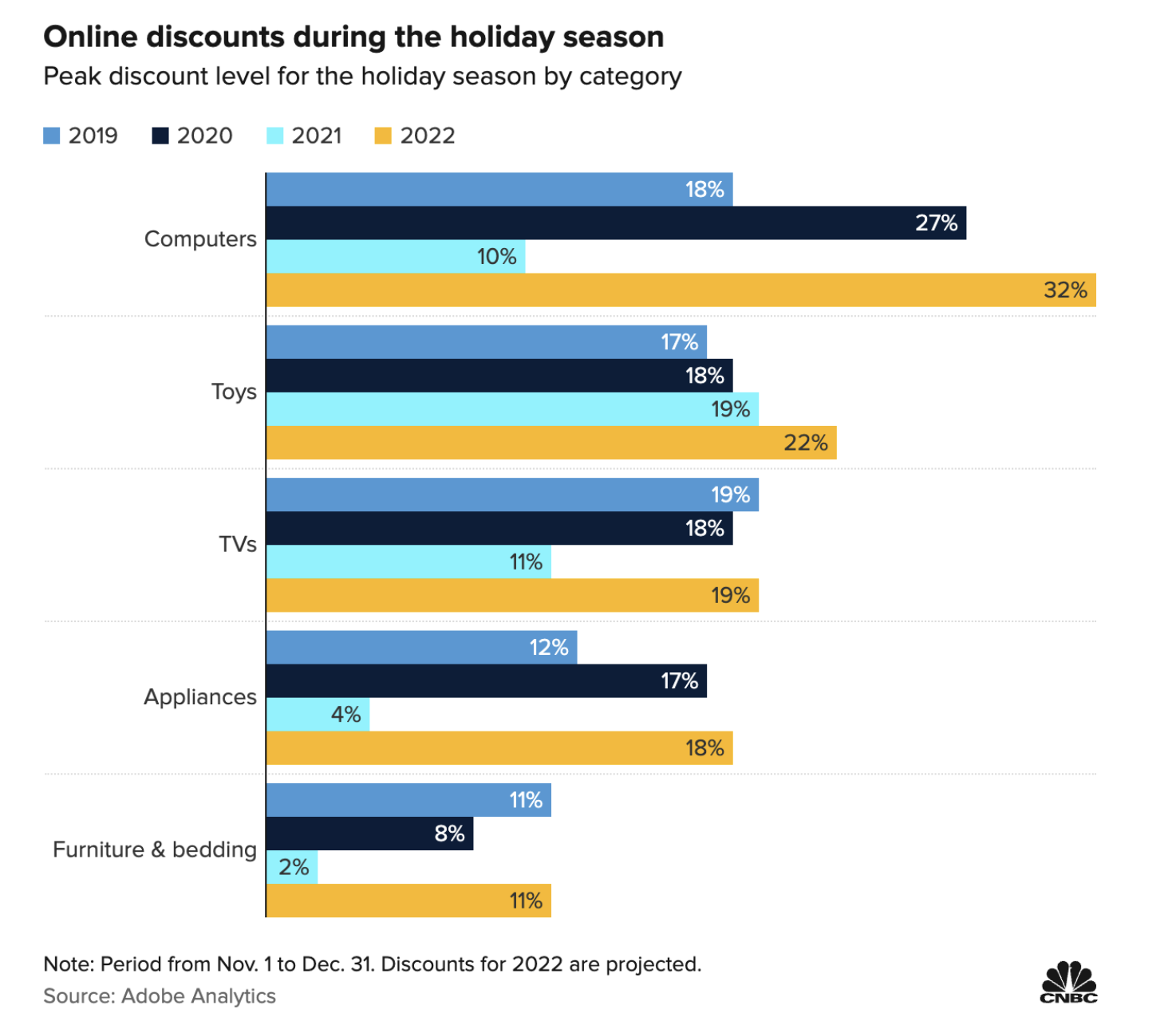 There have been a lot of interviews with experts in the US who tell a similar story. In an interview, Kohl's Chief Financial Officer Jill Timm told Retail Dive "Value is definitely going to win this holiday season, and we need to lean into that."
However, in other markets, it appears that not every discount is as big and impactful as it seems, many products that now have large discounts also had increases in price earlier in the year.
On the importance of giving discounts Laura Meunier, Director of Commercial (global) at GSG, mentioned the following "There has never been a more important time for brands to offer discounts. Consumers are suffering from raised prices for food and living and are now looking to them to make other things more affordable. This year's Black Friday is the chance to build empathy through sales."
Products are also facing greater competition from experiences again, and this is probably due to the pent-up desire to travel after over two years of Covid restrictions where the phrase 'Stay at home' became not only popular but positive. Perhaps people are even looking to escape these uncertain times, spending much more on travel just to get away, as bargains are often very hard to find. This is again stretching the total budget of the consumer. So even with bigger discounts in other categories, some industry watchers expect a muted sales season. 
Consulting firm Bain & Co. forecasts growth of as much as 7.5% from last year's sales season, but when adjusted for inflation, that is only 1% to 3%. Consulting firm Alix Partners projects a 4% to 7% increase in sales year over year — but that is a decline when factoring in the current year-over-year inflation rate of 8.2%.
However, there are contra views as a report by Deloitte, estimates stronger e-commerce growth of between 12.8% and 14.3%, which it attributed to budget-focused consumers going online to find deals and compare prices.
So we can expect bigger discounts, but we can't be sure that they will be enough to really make reluctant or financially stretched shoppers purchase. Fingers crossed. 
Where are the Black Friday sales being held?
A return to a new normal has definitely started as things are pointing to a gradual rebalance between online and the high street as people become less worried about the threat of Covid.
Some companies have reported that high street sales may increase by as much as twenty per cent over Black Friday, and that might lead to an over 10% decline in online sales. But it is still early days, and many retailers are still to reveal if they are willing or wanting to bring back the old days when doorbusters brought in large crowds. 
Laura Meunier, Director of Commercial (global) at GSG mentioned "It's hard to predict yet exactly how large the effects of a return to the high street will be. However, for many of the purely online brands, it will be important that they make sure that they offer big enough discounts to really attract the Black Friday shoppers."
How are the Black Friday sales being held?
A continued trend from the last couple of Black Fridays is the growing sense of exclusivity and privilege for consumers that are members of the loyalty programs. They are again benefiting from exclusive offers, early access to sales, special discounts, gifts with purchases, and all sorts of other types of benefits. Brands like Nike, Adidas or H&M are leaders in this field with special offers or early sales in particular.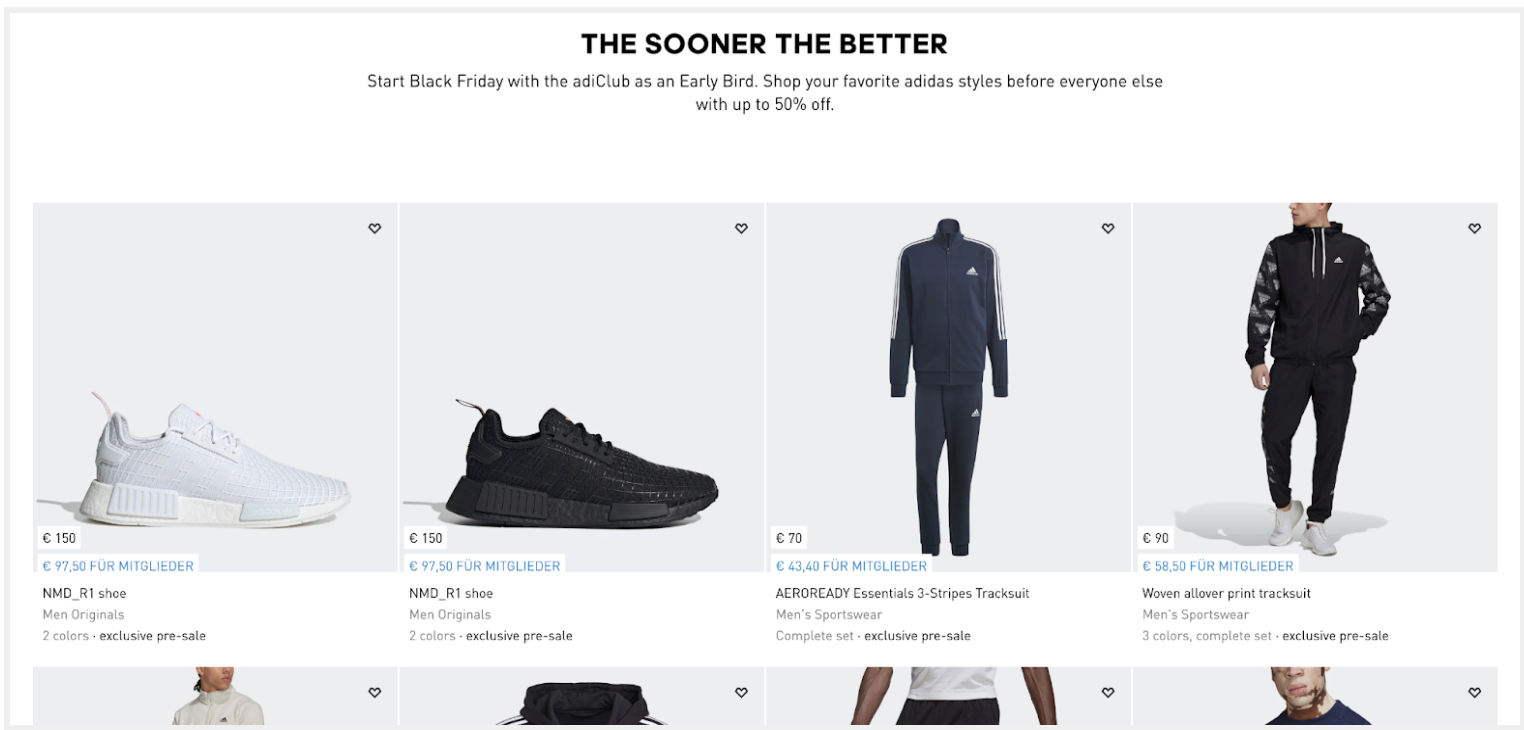 Who are the spenders this year and what do they want and expect from Black Friday?
When the pockets are tight, all consumers will be investing more time into getting the best price on products.
According to the National Retail Federation, 88% of US-based shoppers already compare discounts before buying a product during the Black Friday sales. 
Respondents of the National Retail Federation Black Friday Survey admit they spend a few hours comparing the discounts during the Black Friday and Cyber Monday events to get the best bargains. 
But who is likely to buy more? Higher-income households are planning to spend more than they did in 2021, while lower to middle income individuals are more cautious when setting budgets for the holiday season.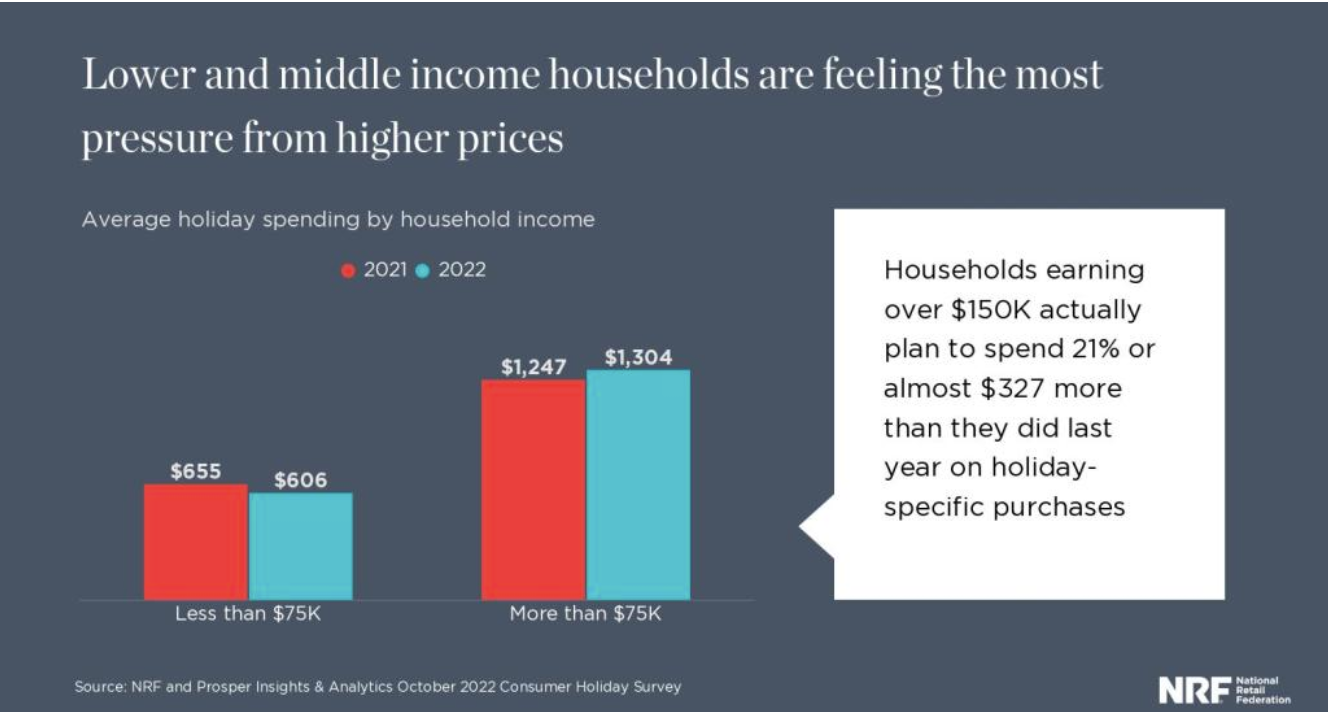 Source: NRF 
Across the channel in Germany, according to a recent survey by PWC, 69% of people want to go on a shopping spree during "Black Week" – despite or because of inflation:
The average budget is 289 euros 

75% want to shop online

40% want to buy half or more of their Christmas presents
What kind of things are people looking to buy and are buying?
According to the Drive Research annual Cyber Week survey: 
On the high street,

Black-Friday shoppers plan to buy clothes (82%), electronics (73%) and toys (53%).

Online Black Friday shoppers

plan to buy clothes (74%), electronics (70%) and toys (45%).

Cyber Monday shoppers

plan to buy electronics (67%), clothes (61%), and toys (36%). 
Summary of the Black Friday sales so far:
Bigger discounts

are likely to be used to attract shoppers in these hard times.

Sales have started later than the last two years

as we see a return to Black Friday Week.

More competition from the high street

as shoppers worry less about Covid than getting a bargain.

Increase in pre-Black Friday

sales for members only.
There is still a lot of mystery to the success of this year's Black Friday sales, and perhaps this might even lead to a number of extended sales running into the Christmas period. 
There is still a lot of mystery to the success of this year's Black Friday sales, and perhaps this might even lead to a number of extended sales running into the Christmas period. Look out for our next articles after the actual Black Friday and Cyber Monday.