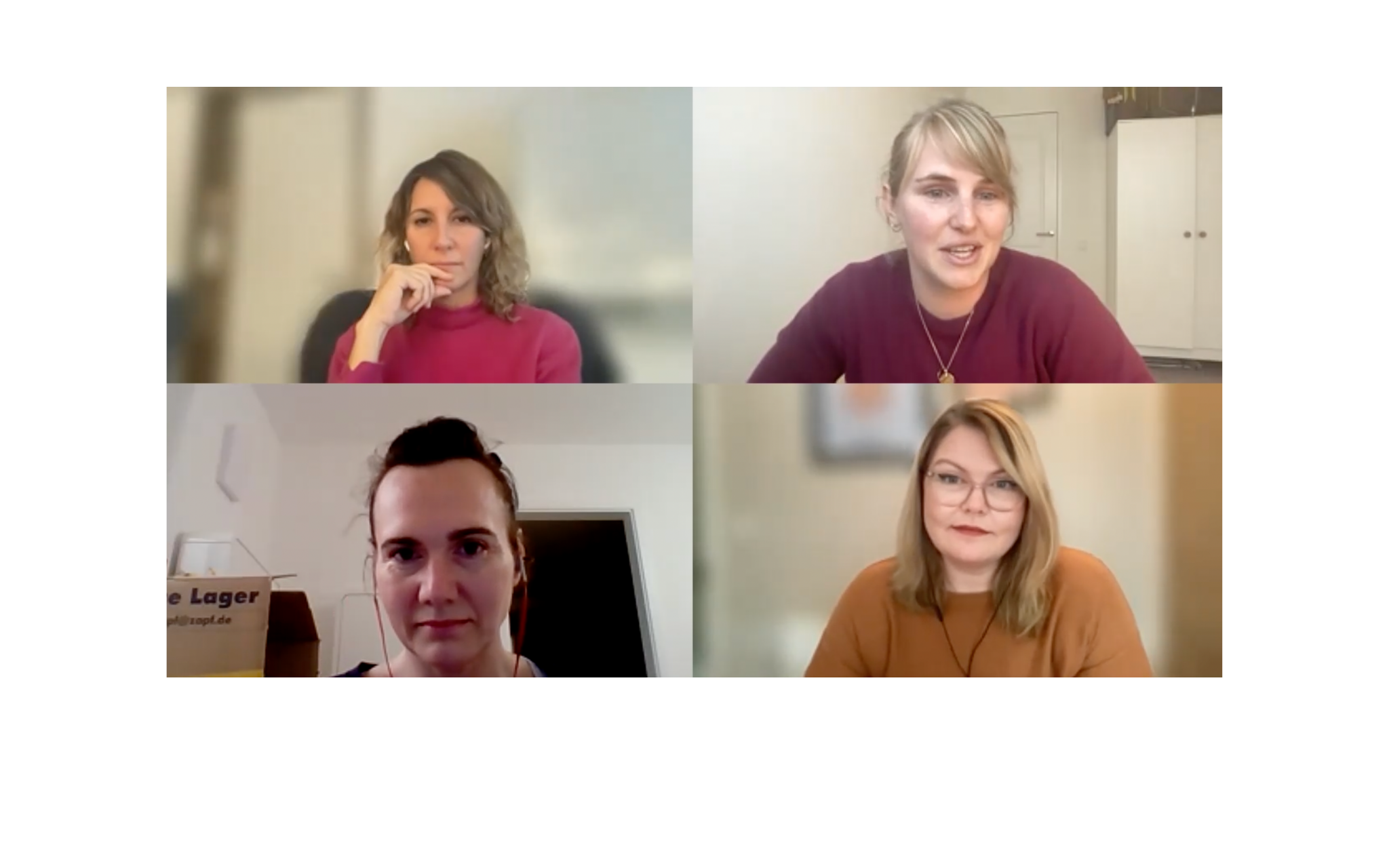 Women's Month: Fireside chat with our new CP&CO Alex Balsells and CFO Kathrin Nusser
Back in March, we got to know our new C-level members a bit closer. We invited Alex Balsells, Chief People and Culture (P&C) Officer, and Kathrin Nusser (Kanu), Chief Finance Officer, to our virtual fireside chat dedicated to Women's Month. The topic of our discussion was "Leadership principles and building spaces for everyone to thrive", with Jamie-lee Scheirlinck, P&C Business Partner, as our moderator.
The event started with a presentation by the Women@GSG initiative formed by our colleagues from the Environmental Social and Governmental group that wanted to have a dedicated initiative focused on building an environment where the women at GSG feel empowered and supported and to enable us all to be allies of this cause. It aims to have a peer-led group empowering women from all different backgrounds and experiences to come together and build connections and impactful relationships. It wants to provide support and guidance on career, work-life balance, and many other things we encounter in our GSG journey. 
Later the chat proceeded with Alex and Kanu discussing their achievements and learnings that shaped them as leaders. They both underlined the significance of mentorship in their career paths and environment and the people around a professional can shape them.
The conversation focused on the fact that a woman's leadership does not have to revolve around traits deemed masculine. Alex was happy to share how she realised that being emotional and open did not impede her leadership skills but, on the opposite, made her more empathetic towards her colleagues. Kanu emphasised that despite the stereotype of women talking too much, you could use it as an advantage. She mentioned that in a room full of men, especially in the finance world, people would wait for her to fight for what is right because she is not afraid to speak.
Another topic we covered during the chat was building inclusive spaces. Alex pointed out that everyone should start working with themselves and understand what biases they might have. Alex also noted: "We as women tend to internalise our biases, especially regarding our achievements. We either never allow ourselves to recognise those achievements or do not get that validation externally. Sometimes we have to stop and reflect on our success and present it as it is both for ourselves and the world around us." She recommended the book by Caroline Criado-Perez, "Invisible Women: Data Bias in a World Designed for Men", because even though women are half of the world's population, they do not get to make the most of the decisions. Moreover, she believes that women have empathy and the ability to listen, understand people, and build spaces where they can thrive. 
Kanu reflected on her past experiences as a leader and how she learned from the mistakes in her past career when her last place of employment considered one minority group and missed out on the other one just because it was not something they had to deal with daily. She believes that many parts of daily decision making must be redefined, including how you design the job requirements for everyone to see the opening as an opportunity, not as a task where you tick all the boxes. "I had excellent role models in my life, and I remember when I started working in leadership positions somehow, I always ended up with too many tasks on my table. My mentor told me that it is not my job to do everything for everyone and rather focus on achieving goals in a pragmatic and planned way, like the OKRs we have at GSG. By focusing on these goals, I managed not only to improve my career but also become a better leader for people I work with."
We, as GSG, are very proud to have people like Alex and Kanu as part of our C-Suite, and we hope for bigger achievements for us with them on board. Working at GSG is not only bringing rewarding moments to millions of people but also bringing rewarding moments for every team member while we are on this journey.